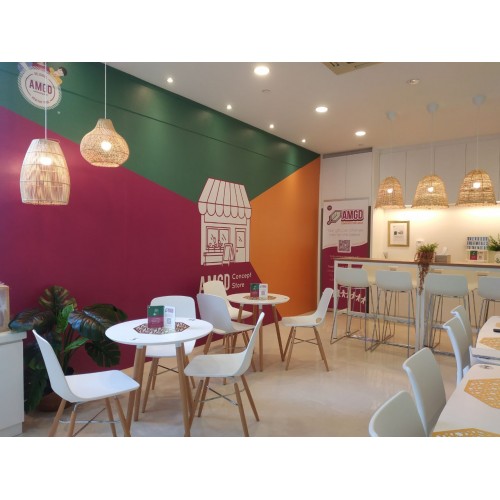 "The fondest memories are made gathered around the table".
Having meals together helps to forge bonds and alleviates our well-being. Eating together whether with your family, friends or colleagues, is truly useful in helping one achieve a healthier lifestyle, physically and mentally.
What is an AMGD Concept Store?
As the local COVID situation takes a hopeful turn, AMGD is taking their dining experience offline by introducing a Concept Store for our passholders. This Concept Store allows for not just a dining and social experience but is also used to host corporate experiences through activities such as nutrition masterclass, seminars, talks, food-tasting and team building events.
The lounge provides you with a comfortable setting where you will be able to enjoy a meal and snacks with your friends or colleagues, allowing a small getaway from work and the hustle and bustle of city life.
How it works?
It's easy! Through the 3Cs – Collect, Consume, Contribute, you would be able to have access and enjoy our exclusive lounge. First, order your meals on our online platform by 11:30pm the night before (orders can be placed days or weeks in advance). Instead of having the meals delivered to your door step, members have an additional option of enjoying their meals in the new Concept Store. Passholders can now book a slot on the website to bond over a satisfying meals with their friends and colleagues at the Store.
Where is it located?
The newly opened Concept Store and Lounge is located in Tai Seng, Sakae Building, #03-01. A 3-minute walk from Exit C of Tai Seng MRT station.
Every Meal has a story and stories never consist of a single person. It needs action, a timeline, a plot, love, and a happy ending. This journey could be made delightful on the paths that are not meant to be travelled alone. We tell our tales from our food, our ambience and our cultural representation and hence, eating together brings those experiences together on a table and are shared through taste buds.
We are so busy with our lives that we forget how important it is to communicate with our family and friends. Eating together is a chance to learn from one another and it gives you a sense of security that you are always surrounded by the people who love you. It makes you internally satisfied and be heard.
Originally published as 6 Benefits of Eating Together on https://thriveglobal.com/stories/6-benefits-of-eating-together/